How to put a link/button to your artwork's DPW page into your Blog Post
---
This article shows you how to post to your blog and include a
link/button to your
artwork's DPW page so people can buy your work with the DPW auction or PayPal link you set up.
Step 1. Post to your Blog
Post to your blog using a temporary place holder for your auction link (like "Click to bid/buy - coming soon!")
Step
2. Pull your Post into DPW
Sign into

DPW,

go to your

Art Tracking

grid, and c

lick the

Pull Post

button to pull in the just created post. This step assumes you have entered your blog's feed URL in your

Account Info page

.

You should also be sure to turn off the blog auto-pull feature in your

Account Info page

.




You can also manually upload your artwork into DPW using the

Upload Wizard

by clicking the button above your Ar Tracking grid.
Step
3. Create a DPW Auction or PayPal Link
Create the DPW Auction or DPW generated PayPal link for your artwork using the little gavel and PayPal icons in the left-most column of your Art Tracking grid.
Step
4. Copy and Paste the Link/Button to your Artwork's DPW Page into your Blog Post
Click the little link icon to open the

Links to your Artwork

window and copy and paste either your artwork's URL or link/button code into your blog post, replacing the placeholder text.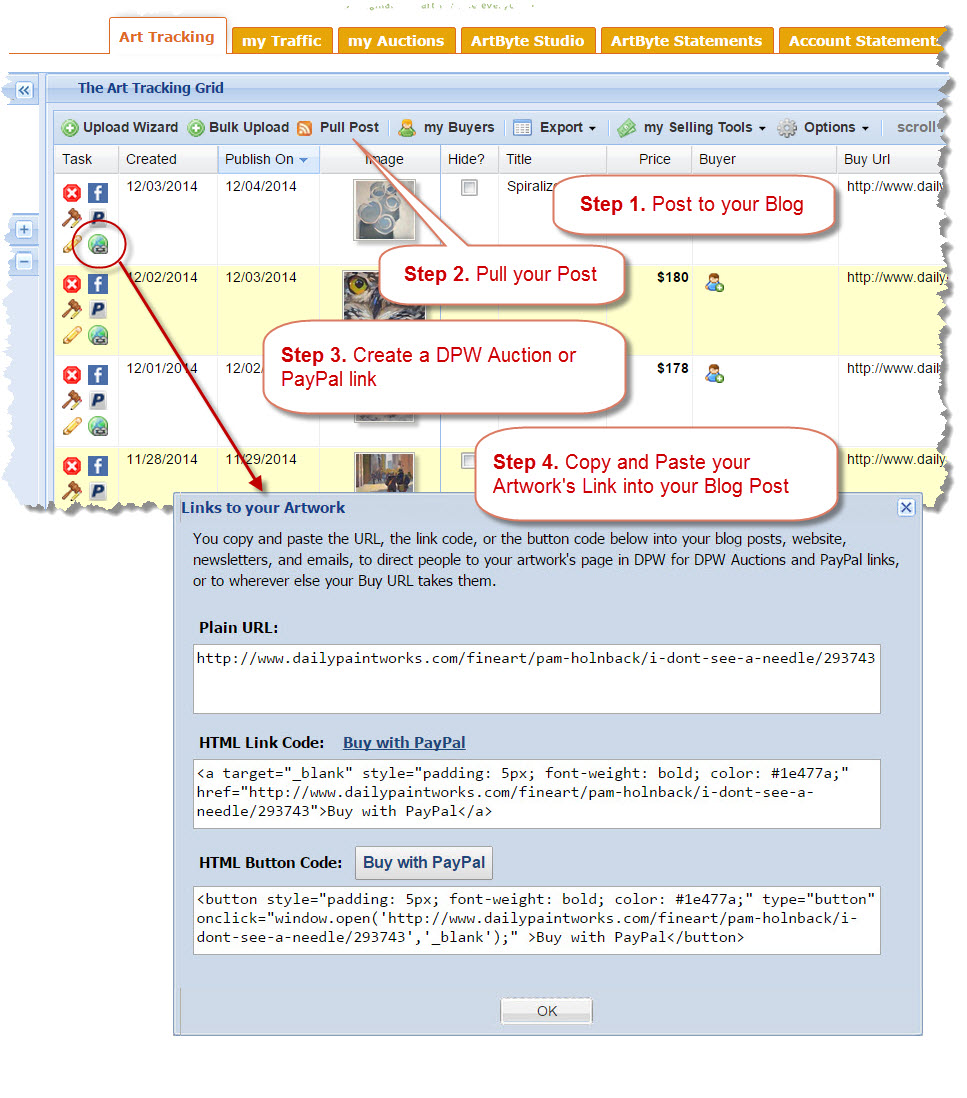 ---
Article ID: 20
Created On: Tue, Apr 26, 2011 at 8:49 PM
Last Updated On: Tue, Feb 10, 2015 at 4:02 PM

Online URL: https://help.dailypaintworks.com/knowledgebase/article.php?id=20