How do I set up Sales Tax to be automatically calculated?
Article ID: 37 | Last Updated: Sat, Mar 28, 2015 at 2:19 PM
Important:
If you wish to collect sales tax on your sales through DPW PayPal links, you must set up your sales tax rules in DPW
even if you already have them set up in your PayPal account.
Setting your sales tax rules up in DPW is necessary, if you wish to collect appropriate sales tax when you sell using either DPW Auctions and DPW PayPal links. To be clear, collecting sales tax is not a DPW requirement, as it is none of our business, instead, it is your local taxing jurisdiction that may require it. DPW only facilitates the collection of sales tax, if you set up the appropriate tax rules, but does not provide for submitting the collected taxes. Nor does DPW report to any taxing authority.
To set up your Sales Tax Rules, select the
Set up my Sales Tax Rules
from your my
DPW Link
s menu at the top of the website.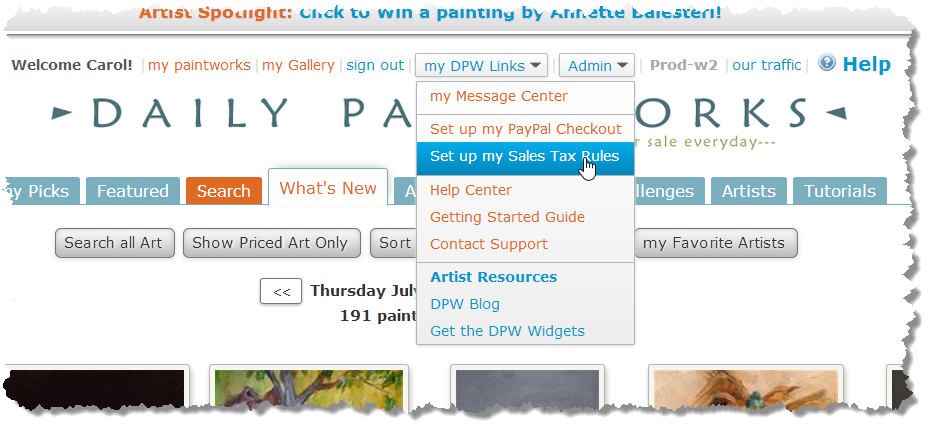 In the US, you only need to collect sales tax when you sell to buyers in the same state in which you live or operate your business.
Although it may vary from state to state, in the US, one generally creates two rules:
A state-level rule.
A zip-code level rule - for either a single zip-code or a zip-code range.
The rules are not additive. So, for example, if your state has a sales ta rate of 8% and your zip-code (range) has a rate of 8.5%, then you would enter a rate of 8% for your state rule and a rate of 8.5% for your zip code rule(s).