Using a Custom Domain Name
Article ID: 64 | Last Updated: Mon, Jul 13, 2020 at 12:10 AM
You can further personalize your gallery by using a

custom domain name

.
Instead of using the default URL to direct people to your DPW Gallery, which looks like this:
www.dailypaintworks.com/artists/<your-name>-<your artist id>
You can use a custom domain name (url), such as:
Click the following example to see it in action:
You Automatically Get a Free SSL Certificate - A $70 a Year Savings
An SSL certificate is required so your DPW Gallery will have the little secure padlock symbol up in the browser's address bar. This lets visitors know your website is safe and all their activity on it will be private. This is something people have come to expect and Google now encourages by ranking sites without it lower in their search results.
Each domain name, including your custom one, requires its own SSL certificate to be installed on your (our) website's web servers.  If you host your own website, you would be responsible for both purchasing and renewing a certificate, for around $70 a year, and installing it.
No worries, within a day of setting up your domain name to point to your DPW Gallery, DPW will detect it and create and install an SSL certificate just for you, free of cost. And, DPW will automatically renew the SSL certificate indefinitely.
Step 1. Register a Custom Domain Name
First, you need to purchase your domain name from a

Domain Registrar

 company, if you don't already have one.
Here are some popular registrars (I use and recommend GoDaddy):
Tip:

 You do not  need to pay for any DNS privacy features or web hosting when you register your domain name.
Step 2. Point your Domain Name to your DPW Gallery
This is a bit technical. No worries, your Domain Registrar can help you, if you need, or will have instructions online on how to set this up. It is done differently for each registrar, so unfortunately DPW cannot help you with this.
To point your domain to your DPW Gallery, you need to create a couple, what are called, A

 Records

in your DNS  (Domain Name System) records.
You will want the following two A

 Records

:
1st A Record


name: @
value:  54.203.33.2
2nd A Record


name: www
value:

54.203.33.2
Important:
If you already have any of the above  A Records , just change the existing record's value to "54.203.33.2".
Bad Advice from your Registrar's Support Department
Too often you may be told by your registrar's support department that you don't need to follow these instructions and can set your domain up a different way. If so, please don't follow their advice. If you don't precisely follow these instructions, your domain name will not point to your DPW Gallery Website properly.
Step 3. Let DPW Know What Your Domain Name Is

As with setting up your categories, you can access the
Doma

in Name Setup
dialog from your Artist 
Tools
slide-out 
menu that is visible at the top of your gallery page when you are signed into your DPW account.
It is as simple as entering your domain name and clicking the Save button! This let's DPW route people to your DPW Gallery when they arrive using your new domain name.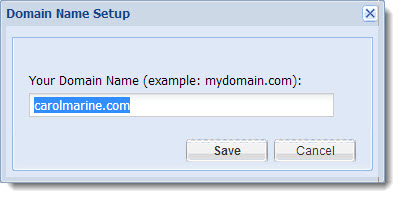 Done!
It can take up to several hours for your updates to your DNS records to make their way around the internet, so you may not see your domain name working immediately.